The Writers' Blog Tour is an internet thread in which writers respond to 4 questions about their work, and then tag another writer who will do the same. I was tagged by Maurice Mierau, who has a new book coming out in the fall, an absorbing personal story about Maurice and his wife's journey to adopt two brothers from an orphanage in Ukraine. I had the chance to read Detachment: An Adoption Memoir in manuscript, and was galvanized by the drama of Maurice and Betsy's time in Ukraine, and by the seemingly arbitrary play of forces that ultimately created a new family.
Maurice evokes his new sons beautifully, their spirit and their physical presence, and I loved reading about them all waking up to their new life and trying to put the old one behind them, a story Maurice treats unsentimentally and with moving honesty.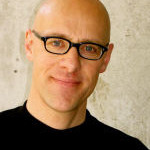 Detachment: An Adoption Memoir is published by Freehand, and will be on the shelves September 2, 2014. Maurice is the editor of the fine on-line magazine, The Winnipeg Review. He is also the author of two books of poetry, Fear Not (Turnstone Press, 2008) and Ending with Music (Brick Books, 2002).
Maurice's responses to the four questions are posted HERE. And mine are below, as well as links that will lead you into the whole chain.
The writers blog tour

What am I working on?
While I wait for The Opening Sky to come out in September, I'm taking the first tentative stabs at a new book, another contemporary novel. I can't utter the names of the characters or reveal what they're up to because I'm trying to sneak up on them and I'd hate for them to freeze in their current half-baked incarnation. (Honestly, it's a crazy stage!)
How does my work differ from other work in the same genre?
This feels like a presumptuous question, and hard to answer because my three novels are all so different. But I guess I can generalize about one of my on-going preoccupations:
I aspire to create complex characters that readers will feel intimately connected with, so that their problems (often self-inflicted) will be felt with empathy and dismay. My last two books are written in the 3rd person, in "the free indirect"– a zone between objective reportage and stream-of-consciousness. It's a narrative sweet spot (in my view) where the writer taps into the character's intensely subjective sensations and perceptions, where the narration is shaped by and steeped in the character's state of mind in the moment — and yet, because you're writing in the 3rd person, you're not strictly limited to the character's voice, and you can stealthily open up enough distance so that readers glimpse the character objectively and even ironically. I love the potent mixture of sympathy and intellectual clarity the free indirect can create, and that's what I'm going for.
Why do I write what I write?
Each book leads to the next. Curiosity was such a big book for me. I loved writing about England in the early 19th century, when a huge shift was happening in society's thinking about the age of the earth and humanity's place in nature. With The Opening Sky, I wanted to explore my own world through a similar lens. I'm interested in characters whose dilemmas speak to the dilemmas of the age they live in. For all I hope my novels move and entertain on the level of character and story, I view them as social novels.
But as for the specifics, I honestly don't think any of us fully know why we write what we write, and in a sense we have little control over it. You make a certain hard-headed assessment about whether there's enough drama in a situation to sustain a novel and to keep you interested for all those months and years. But mostly it's mysterious, why one character and set of events draws you and not another. I'm thrilled by the way fictional characters assume a reality that seems to be independent of their writer. It's a deep and inky lake, the unconscious, and what keeps me going are the surprising things that swim up out of it.
What is my writing process?
It's largely a revision process. Once in a while a scene comes to me whole, almost exactly as it will appear in the finished book, and it's wonderful when that happens. But mostly, especially for the first 30-40 pages of a novel, the first draft of any scene is brutal, a fumbling around in the dark. Then I sit with the scene over a period of days and wait for it to develop into what it is supposed to be.
When I was writing book reviews and technical manuals, I was a pretty cerebral writer, very conscious of craft, but I'm rapidly beginning to honour intuition above all else. As Lawrence Durrell put it, You set yourself a goal and you walk there in your sleep.
To read how other writers answered these questions, follow these links . . .