Happy 2016! To celebrate a new year of happy reading, my publisher is offering a sample copy of the new paperback of The Opening Sky to book clubs, as well as a book club guide. If you'd like to receive this package, e-mail me at joan[at]joanthomas[dot]ca, and —just to make it interesting—tell me three things about your book club.
And as always, if your book club is reading one of my novels, let me know what I can do to make the experience more fun for your group—whether through a visit (in person or by Skype) or by responding to e-mails from your members.  Just drop me a line at joan@joanthomas.ca. And I'd love to receive an e-mail telling me how the evening went.
These are some resources you might find helpful in sparking or deepening discussion:
THE OPENING SKY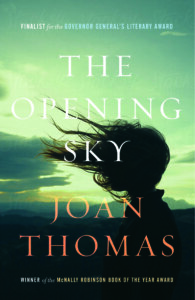 How I wrote it – CBC Books.
The Texture of a Life – an Interview in Puritan Magazine.
READING BY LIGHTNING

The Readers Guide Edition (Goose Lane Editions, 2011)
Extra features include:
– an Afterward by writer Lisa Moore.
– an extended author biography
– an author interview
– a list of ten books I loved reading, with notes about why I recommend them to other readers.
Interviews
Quill and Quire, December 2008.
Review by Maureen Garvie  READ »
The Literary Review of Canada, March 2009.
Review by Erika Ritter. " READ »
Reviews
Prairie Fire Magazine. Winter, 2008.
Review by Meira Cook.  READ »
Amazon. "Fiction loves those moments when a character sees that the way she thought about herself and her world is faulty. This awareness may come the way a lightning bolt illuminates the landscape in a storm, although the process of actually transforming the way you act in the world is often slower and subtler, as it was with Lily."  Author Q&A with Mari Malcolm, November 2009
Radio New Zealand. "The whole time I was writing I was trying to figure out how you came from there and ended up here, I was trying to draw threads across that gulf."  Interview with Eva Radich, May 13, 2009.
CURIOSITY
"Book clubs are going to snap up Curiosity."  The Edmonton Journal.
When a novel is based on the lives of real people, we're always interested in knowing how fiction and history intersect in the story. Click on these pictures to learn more about the research behind Curiosity and the history of the major characters in the book.
Interviews
With Michael Enright, CBC's Sunday Edition. June 12,2011 (20 min).  Here.
With Friederike Knabe in OSCAR, October 2010.  Here. Scroll to page 25.
With Joe Planta: On The Line in The Commentary:   Podcast
 Reviews
The Walrus, May 21010. Review by Karen Luscombe.
Prairie Fire Review of Books.
October 2010, Review by Heidi Greco.
Quill and Quire, October 2010. Reviewed by Ami Sands Brodoff. Q&Q review.
Winnipeg Free Press. September 2010. Reviewed by Bob Armstrong. Curiosity Free Press review
Or check out reviews by on-line bloggers like Books Under Skin, Wandering Coyote, BookTrib, Reading the Past, The Overdecorated Bookcase, The Silver Bowl, The Erudite Editor, The Mark, Sasquatch Radio, Lancette Arts Journal.