Finalist for the Governor General's Award for Fiction
Winner – McNally Robinson Book of the Year Award
Shortlisted for the Margaret Laurence Award for Fiction
Shortlisted for the Carol Shields Winnipeg Book Award
"A Best Book of 2014"  . . .  CBC Books, Vancouver Sun, Winnipeg Free Press, Metronews

The Opening Sky is the story of a family with one foot in the counterculture and the other in the good life. Liz is a restless, energetic woman who manages a beautiful house and a non-profit agency with panache. Aiden is a therapist trying to manage his own anxieties. Sylvie is a university student and an activist, more than happy to stick her fingers into the fault lines in her parents' thinking.
A situation with Sylvie's new boyfriend upsets the family's uneasy equilibrium. Noah has complicated ties to the family's past, and as the novel opens, Liz, Aiden and Sylvie are confronted with a crisis that asks all three of them to revise their fundamental notions of who they are in the world.
"The Opening Sky is a marvel. In rich, meticulously woven prose, Joan Thomas confronts the painful paradoxes at the heart of a family, and reports back on both the darkness and the light. This is a contemporary narrative, fully-wired with eco-anxiety and intergenerational strife, yet somehow a sense of the mythic pervades the tale. Thomas charts the labyrinthine intricacies of marriage and parenthood as, together and separately, the Glasgow-Phimisters endure the lose of the 'old consolations' and struggle towards something new. I loved this book. It thrilled me with its fierce portrayal of how we strive and fail and sometimes even manage to love."                                      — Alissa York, author of Fauna 
"The Opening Sky is a sharply observed, unflinching portrait of the middle class in the 21st century. A beautiful, harrowing book."  — Don Gillmor, author of Mount Pleasant.
The Opening Sky is published by McClelland & Stewart. Its editor is Lara Hinchberger, and its designer Terri Nimmo.

How I wrote The Opening Sky . . .
An interview with CBC Books interviewed me about the day-to-day reality of getting a novel off the ground. Read it here.
Do you judge a book by its cover?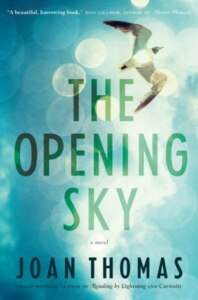 Every month, Quill and Quire runs a feature called "Cover to Cover," in which book designers  discuss all the versions of a cover they considered before settling on a design. I enjoy reading this feature, and I'm always struck by what an art it is, and by how many people (editorial, production, and marketing) are involved in the decision.
I'd love to see a "Cover to Cover" article on the design process for The Opening Sky, because such dramatically different designs were considered for the hardcover edition. This photographic cover with the pink vacuum cleaner, for example, was used for the Advance Readers Copies, and  is still posted here and there on-line. But after a lot of consultation, the sun-dappled blue cover was chosen for the finished book. What do you think?